Glenco Electrical Services is extremely proud to announce that we have recently been named the 2016 WINNER of the Australian Small Business Champion Awards Trade Services category.
Glenn Rosen recently attended the awards evening and accepted the award on behalf of himself, Brad, and the entire Glenco team.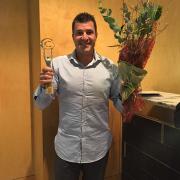 Glenn Rosen pictured after accepting the award.
The offical media release is below:
Glenco Electrical Services from Alexandria has been named Champion Trade Services at the Australian Small Business Champion Gala Dinner and Awards Ceremony held on Saturday 23rd April at The Westin Sydney, with over 1,000 guests in attendance.
The Australian Small Business Champion Awards is the only national recognition program for Australian small businesses.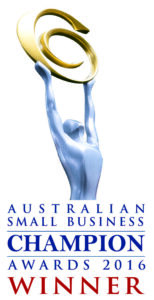 The program aims to recognise outstanding Australian small businesses and encourage high standards of excellence in small business practice. "The Australian Snall Business Champion Awards is a way to recognise the efforts of small business people whose efforts contribute tot he properity and vitality of communicites across Australia", said Steve Loe, Managing Director of Precedent Productions and founder of the awards. "As a small business owner myself, I know the vision and dedication to excellence required to succeed. These traits have been displated in abundance by all of our 2016 Small Business Champions.
Representatives of Glenco Electrical Services were presented with an award statuette, certificate and gained national recognition as an industry leader.
Small businesses from across Australia delivered an impressive array of entries, with winners representing a broad range of industries from all states and territories.
The Awards are proudly presented by Precedent Productions, a small business in its own right, and supported by Associate Sponsors, Castaway Financial Forecasting System, BizCover, and Key Person of Influence.