For the second year in a row, Glenco Electrical Services has been named the national winner of the Australian Small Business Champion Awards in the trade services category.
Last night I had the pleasure of attending the gala dinner at the Westin in Sydney, alongside some of the most outstanding small businesses in Australia. We were there representing Glenco as finalists for the second year in a row at the awards. Having walked away with the win last year, our hopes for this year were high, although we were up against some stiff competition. The evening was filled with first class food and entertainment, and inspiring stories from business owners from all over the country.
There was a total of 20 finalists in the trade services category from businesses located all over Australia. Champion Trade Services, "a very important category" as Natarsha Belling described it before announcing the winner, was one of the absolute last awards of the evening. When we were named as the winners it was a genuinely special moment. As someone later described it to me, the event really is the 'Oscars of small business'.
Winning the prestigious award for the second year in a row is truly an honour, and we were proud to be standing alongside some of the best small businesses in Australia last night. Our win is a result of the hard work, dedication and commitment to excellence of the entire Glenco team. This honour is just the beginning of what's looking to be an extremely exciting 2017 for Glenco.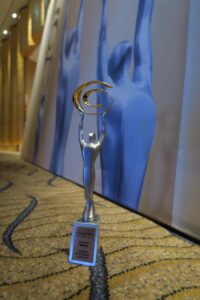 Glenco's statuette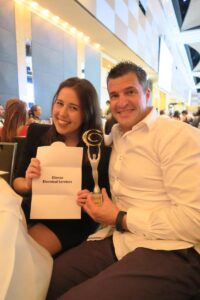 Glenn and Lara after Glenco's win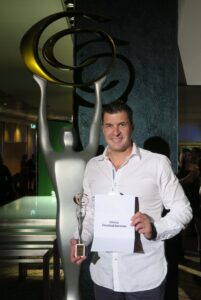 Glenn and Lara after Glenco's win
The official media release about Glenco's win is as follows:
Glenco Electrical Services from Alexandria has been named Champion Trade Services at the Australian Small Business Champion Gala Dinner and Awards Ceremony help on Saturday 1st April at The Westin Sydney, with over 1,000 guests in attendance.
The Australian Small Business Champion Awards is the only national recognition program for Australian small businesses.
The program aims to recognise outstanding Australian small businesses and encourage high standards to excellence in small business practice. "The Australian Small Business Champion Awards is a way to recognise the efforts of small business people whose efforts contribute to the prosperity and vitality of communities across Australia", said Steve Loe, Managing Director of Precedent Productions and founder of the awards. "As a small business owner myself, I know the vision and dedication to excellence required to succeed. These traits have been displayed in abundance by all of our 2017 Small Business Champions".
Representatives of Glenco Electrical Services received an awards statuette, certificate and gained national recognition as an industry leader.
Small businesses from across Australia delivered an impressive array of entries, with winners representing a broad range of industries from all states and territories.
The Awards are proudly presented by Precedent Productions, a small business in its own right, and supported by Associate Sponsors, Castaway Financial Forecasting System, Understand Insurance, and Dent – Key Person of Influence.