As electrical contractors in Sydney, we're pleased to see that plenty of our customers are making the switch to LED light bulbs. Why? Because the shift to LEDs is influenced by two main factors: energy conservation and cost awareness.
LED bulbs are more efficient
Don't let their sticker price trick you: traditional incandescent bulbs use significantly more energy than LED lights, meaning that they cost more to run. Incandescents also give off heat, which is a sign of wasted energy – and for customers, that means money down the drain.
LEDs are not only more efficient to run, but they're longer lasting as well. According to YourEnergySavings.com.au, LEDs may be 4-5 times more efficient than traditional bulbs.
These factors, combined with the falling price tag on LEDs, means you'll find yourself making back your initial investment on your LED bulbs more quickly than ever before.
An opportunity to upgrade your fixtures
While it's possible to insert LED bulbs into your existing fixtures, an LED upgrade represents an opportunity to update your household fixtures as well.
Recessed downlights are a common target for updates, as they form a common element of many contemporary homes. With recessed lighting having been in vogue for a couple of decades now, many relatively newly built or renovated homes rely heavily on downlights – but of the halogen kind. Swapping these lights, and their fixtures, out for LED bulbs can result in significant savings along with improved lighting quality.
Additionally, if your home is an older one, the rise of affordable LED lighting makes it a great time to give your household wiring an overhaul – and update your lighting fixtures while you're at it.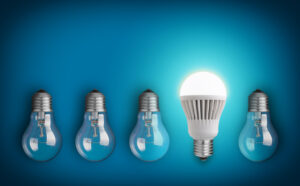 Networked LEDs for your household
If investing in a "smart" lighting system is something you've considered, then your LED lighting can save you even more money. Our team of Sydney electricians can help with installing networked LED systems for your home or business – letting technology take the reins when it comes to turning lights on and off, or dimming them to suit the ambient environment.
The upfront costs may seem high, but a combination of monitoring software and LED fixtures can help save up to 90% on your energy costs. That's certainly nothing to sneeze at, especially if your property is a larger one.
The importance of hiring professional electricians
As an emergency electrician company in Sydney, we've assisted with electrical overhauls and upgrades for customers throughout the Sydney metro area.
We can help you do the maths when it comes to installing an LED system in your home or business – and advise you on the LED bulbs and fixtures that are the best fit for your property.