When you add high-tech, modern gadgets and systems into a home that was built more than a few decades ago, you can run into difficulties with both the performance of your technology and the safety of your wiring under the new and unexpected load.
The way of the future
While it used to be sufficient to simply have basic electrical and telephone wiring in your home, modern electrical wiring also requires additional entertainment and communications infrastructure to take into account your audio, internet connectivity and video distribution streams.
Indeed, the current and future trend is networking and connectivity throughout your entire home, from all devices running off the same connection to smart lights and climate control systems which have learned when you will be home and prepare for your arrival. Home automation is unquestionably the path of the future, but your decades-old wiring is unlikely to be able to meet these requirements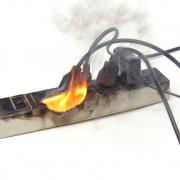 What to consider when re-wiring
Here are three tips to help you navigate the process of re-wiring your older home for the future.
1. Think about your current and future needs
When you are re-wiring an older home, consider what your electrical system will need to support. For example, do you want full home automation? Do all your family members need to be using devices at the same time? As well as looking at your current needs, you can also give some thought to what your family's requirements will become in due course.
Got a handful of littlies? In a few years, they will likely rely on devices for their homework and spend hours gaming or talking on your VOIP telephone line. While a modern wiring system can be easily reconfigured once it has been installed, it is still wise to consider what your long-term requirements will be before you commit to one path.
2. Bear in mind what the wiring is designed to do
In order to cope with the demands of modern technology, your home's wiring will need to have a strong structure, to ensure the constant and ongoing stability of your system. With this in mind, sit down with your electrical contractor and a copy of your home's floor plan to mark out where you want wires and wall outlets. Pay attention to things like which devices require ethernet versus coaxial cables for example, or which will be wireless.
3. Rely on the experts
This is perhaps the most important factor to consider. A good electrical contractor will be able to answer your questions, and give you advice on your electrical needs, especially when it comes to the requirements of home automation.
Always ensure that you obtain electrical services from a licensed electrician, who will undertake the re-wiring works professionally and safely. Attempting the job yourself is illegal, not to mention risky!
At some point, many older homes will require re-wiring to keep up with the demands of the modern lifestyle. The key is to think about what you want from your home's electrical system, and get the right electrician for the job.