60% of this year's house fires will occur between now and September. Most of these fires can be prevented by some simple measures.
May 1st was 10 years since smoke alarms became mandatory in all homes in NSW. Most smoke alarms don't last 10 years…
GLENCO WILL REPLACE YOUR OLD STYLE IONISATION SMOKE ALARMS WITH NEW PHOTOELECTRIC SMOKE ALARMS FOR ONLY $149.00 FOR THE FIRST, AND $99.00 FOR EACH ADDITIONAL SMOKE ALARM*.
So what's the difference?
Ionisation smoke alarms used to be the industry standard. These smoke alarms are more prone to false alarms (which also means people are more likely to remove the battery in them due to their annoyance, which results in losing any protection they could have provided). Additionally ionisation alarms are slower to respond to smouldering fires. This means if you and/or your family are attempting to evacuate in the event of a house fire, visibility and breathing difficulties can occur.
Alternatively, photoelectric smoke alarms can detect a smouldering fire 10 to 30 minutes quicker than ionisation alarms. Smouldering fires are the most common type of house fire. Research shows these earlier warnings save lives. Photoelectric smoke alarms are also less prone to nuisance tripping resulting from cooking or shower steam.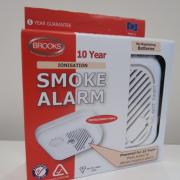 Older style Ionisation smoke alarm currently installed in most Sydney homes
What do the experts recommend?
The Fire and Rescue NSW Commissioner and the Fire Protection Association of Australia are urging home owners to upgrade existing older style ionisation smoke alarms to the new style photoelectric ones to help with earlier detection and improve fire safety in your home or investment property. It is recommended you use a local electrician in Sydney like Glenco to have your smoke alarms assessed and new ones installed if needed.
What can Glenco can install in your home?
Glenco now recommend photoelectric smoke alarms be installed in our client's homes, and we no longer install the older style ionisation alarms.
Additionally to photoelectric smoke alarms being installed, if you have more than one alarm in your home, we recommend asking us about having wireless interconnected smoke alarms installed. The advantage of this is that if one smoke alarm detects a fire in your home, it is linked to the others and you will be alerted of the danger wherever you are in your property.
CALL US TO HAVE YOUR FIRST PHOTOELECTRIC SMOKE ALARM INSTALLED FOR ONLY $149.00, AND ANY ADDITIONAL PHOTOELECTRIC SMOKE ALARMS INSTALLED FOR ONLY $99.00*.
If you would like more information, or would like to make an appointment to upgrade the smoke alarms in your home or investment property, get in touch with us.
OTHER SIMPLE FIRE SAFETY TIPS FOR AROUND YOUR HOME:
– Don't leave cooking unattended
– If you are going to use electric heaters and blankets, always switch them off before going out or to bed, and don't leave them on for long periods of time
– Don't use BBQ equipment indoors
– Clean out the lint filter in your clothes dryer after every use
– Always supervise children around heaters and open flames
– Ensure candles are kept away from other flammable objects, and never leave them burning after you leave the room
– A good rule is to keep things 'a meter from the heater'
– Never smoke in bed or on the couch
– Never overload power boards and/or power points with too many appliances
– HAVE PHOTOELECTRIC SMOKE ALARMS INSTALLED BY GLENCO
*If we find you have a 240 volt, hard wired, or lithium operated smoke detector installed, we will replace these like for like but in photoelectric style for this price. We assume the existing wiring, smoke detector location, and switchboard is good within the property for the replacement to take place. Costs mentioned exclude GST. Wireless interconnected smoke alarms are not included and would be at a higher cost.